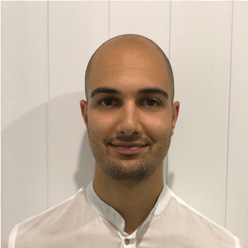 Dr. Aaron Obeid
Principal Practitioner
Location
Qualifications
Senior Chiropractor
Dry Needler
Exercise & Sports Practitioner
Biography
Dr. Aaron Obeid is a Chiropractor with a background in Exercise Physiology, having graduated from the Australian Catholic University with a Bachelor of Applied Science (Exercise and Sport Science) in 2009 he then went on to complete a Masters of Chiropractic from Macquarie University.
Treatment style: Aaron believes a combination of therapies utilising many Eastern and Western treatment styles, including but not limited to acupuncture and dry needling, cupping therapy, and active muscle release techniques along with joint mobilisation/manipulation help to achieve the best result for his patients.
Speciality: Aaron has a passion for treating chronic and acute musculoskeletal conditions, sports injuries, as well as pre and post natal conditions. Utilising hands on techniques of manual therapy and also using exercise as a rehabilitation tool to maximise patients recovery and enable a more active approach to patient care. Currently, Aaron treats a host of professional athletes currently competing in the National Rugby League, Intrust Super Cup, Brazilian Jiu Jitsu and Crossfit. His general database of patients also varies in different shapes and sizes from new/expecting mothers, the elderly and children.
Philosophy: Aaron believes it is integral that whilst treating the presenting symptomatology it is fundamental for optimal recovery to diagnose and treat the underlying causes of the complaint. Underlying this all of course, is Aaron's belief in healing the body from the inside out, starting with identifying allergens and utilising orthomolecular medicine.